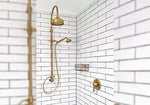 Obviously, everyone wants to start their day in a good mood. Healthy and happy morning activities pave the way towards a full happy day. Being among the most used places in a house, when you get up, you visit the bathroom for a whistling mood. 
Don't you feel relaxed? Designer tapware knows exactly how to fulfill your needs, that is why they are famous for manufacturing elegant and easy-to-use showers and taps.  So, if you are remodeling and constructing your bathroom, you might have figured out everything from tiles on the floor to the finish of the counter. 
In all this process you need to think about the taps on the sink and the bathroom shower. The taps and showers are not just what you think, they are more than that in terms of luxury when we see the designs, styles, features, and finishing. 
Therefore, after seeing the controls over the water pressure and other features you need when it comes to the bathroom, we bet you would like to switch from common taps and showers to designer tapware co. 
Why do you need to remodel your bathroom? Let's dig out the reasons.
Refurbishment of Your Bath Space
If you are constructing a new house, you must visualize your bathroom. You need to put some extra mind into the selection of sanitary ware, tiles, and fittings, wellness tub, excellent rain shower, and other elegance that suit your budget. 
To the available bath space, the modern designs you expect, and the fittings you want to make the bathroom lavish. If you are a good planner, the ambiguity will be minus and the execution will be much more stress-free.  
Further, we have a team of experts in tapware Australia to provide consultancy as per your need to come up with various ideas that make you happy. Also, how the new shower will look, they will consider the pre-existing plumbing to provide their expertise for upgrading.
Synchronization with the Ideal
Bathroom

Design

Understandably, everyone wants bathroom designs to be eye-catching and astonishing. Therefore, beautiful designs have become rampant and the order of the day. 

If you are smart enough to discuss with the remodeling contractor well before time, you can make your bathroom glimmer and glitter with sophisticated showers and taps that synchronize with the bathroom design. 

The experienced technical staff knows well about the items for bathrooms that are trendy to transform traditional tapware and bathrooms into stunning ones. With a little bit of effort, you can make wonders happen.
Trusting the Experts
Designer tapware comes up with confidence and surely helps to perfectly suit your bathroom. Our customer-oriented policies last for many years of hassle-free services. Further, you can choose from our huge stock of tapware online as well. 
Feel free to visit our website to check out the diverse tapware range to make your bathroom outstanding. You can also consult our expert technicians for help in any fitting challenge. 
Being the finest bathroom tapware Melbourne, we are responsible to upgrade your old-styled bathroom to the brand new one.