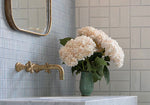 You must pay special attention to every aspect while planning the interior design of your home or another form of construction, including the sort of kitchen tapware products you choose to install. If you choose tapware that is poorly manufactured, it will not add to the ambiance of your home or structure and may even distract you from it.
You will also have to replace them more frequently than buy well-made ones. As a result, Designer Tapware Co. is a pioneer in creating high-quality bathroom and kitchen tapware products and accessories.
Look through the following facts to discover more about why you should only use high-quality kitchen tapware Products in your interior design.
Attractive Finishes Enhance the Décor
All well-made tapware products have attractive finishes that suit the décor of your bathroom, kitchen, or any other room with a water system. Stainless steel, chrome, matte black, and mix finishes are just a few examples of today's finishes.
The Finishes on High-Quality Tapware That Won't Rust or Break
Not only should the finishes on high-quality tapware be appealing, but they should also be long-lasting and difficult to break or flake off even with frequent use. Nothing is more inconvenient or wasteful than replacing tapware abruptly because the finish has worn off or degraded.
Solid Construction Keeps Tapware Working Optimally for Years
Another reason to use well-made tapware in your interior design is that its sturdy construction allows them to function properly for many years. As a result, you'll see a significant return on your investment.
Designer Tapware Co. produces a huge variety, designs and styles for your bathroom and kitchen. The company's top-quality fireclay sinks and traditional tapware are famous in Melbourne and throughout Australia.
High-Quality
Kitchen Tapware

Would Efficiently Deliver Water

Ceramic disc cartridge innovation in well-made kitchen tapware ensures that water is supplied efficiently. This technology enables tapware to operate smoothly, ensuring continuous water flow throughout its operation.
Durable and Attractive Tapware Assist in the Sale or Lease of a Home
One last point to mention is that elegant, long-lasting tapware can assist you in selling or leasing your home or property. It has the potential to leave a lasting impression in the minds of buyers or tenants. For example, people will like the tapware's overall aesthetic impression of the room. They'll also notice relatively quickly that they won't have to replace the tapware once they've moved in.
Consult Designer Tapware for further reasons why quality kitchen tapware products should be part of a smart interior design scheme. We are an Australian tapware company that creates creative, stylish, and long-lasting tapware and related goods.
Our company offers warranties on our items and a satisfaction guarantee on our work. We are in charge of providing you with high-quality tapware for your kitchen and bathroom. Also, please feel free to browse our wide range of product selections on our website, Designer tapware Co.