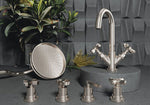 Let's walk into any model home kitchen and find the bells and whistles they offer. From savvy islands and beautifully designed kitchen taps to upgraded cabinets and attractive countertops, it all creates an ideal kitchen. It seems mesmerizing even if you imagine it. 
If you are a genius, nothing will come your way and it will become easy to turn an ordinary kitchen into a luxurious one. A homeowner can achieve that updated and stylish look if they know when and where to shop. 
Designer tapware is the one-stop solution for the highest quality kitchen taps and Fireclay sink products from Europe and curates the selection for Australian households.  Not only will it help you remain within your budget, but it will also provide satisfaction and keep you away from regretting the impulse purchases you are guilty of.
Kitchen Taps and Sinks Outlook
The tapware industry is ever-evolving with more innovative and attractive designs for the compact look. You can save a few dollars if you purchase outdated and old-style kitchen taps, but it doesn't suit the current industrious life. 
The reason behind it is that every day is a new day in terms of new inventions altogether. Let's think for a while about a beautifully tiled kitchen along with a top-notch wooden cabinet and stove range with rustic or cheap sinks and kitchen taps; it will certainly destroy the mood. 
Not only this, it will give a massive blow to the overall cosmetic outlook. To add on, the luxury designer tapware will add value to not only the kitchen but to the home as a whole. 
Further, no one appreciates the approach to visit various places to get the required kitchen taps and sinks; it is always helpful to select a place where you can get variety and designer tapware is your destination.
Classy Cabinets
The Cabinet frame is  the overall outlook of a luxury kitchen. Custom-made cabinets are ideal for creating an element of a great kitchen together. These parts of the kitchen are easy to handle because you can get them repaired with and refinishing. 
For instance, you replace the old cabinets with new and expensive ones or do some needful to upgrade them. What if the kitchen taps and sinks are rotten or tired? Is it not enough to spoil the mood? We are sure because it is to be a thorn in the sole. 
That is the reason, we suggest you not to compromise on the tapware and find designer tapware around for the best-maintained standards.
A charming and New Splashback
After fitting the latest and classy tapware system, the splashback is the most impeccable item to create a pleasant look. A reasonably selected splashback is the key to adding some luxury to your ideas. 
If you add these necessities to your kitchen interior, you will thank yourself later for the overall classic outlook. A glassy splashback for a pop of bold color is also budget-friendly and an alternative to expensive marble material.
An amalgamation of all these materials including luxury tapware and sinks, classy cabinets, and splashbacks will give an astounding look to your kitchen that will be enough for your inner peace. Along with it, never forget to visit designer tapware online for the extended range of standard kitchen taps and sinks that suit your kitchen space.