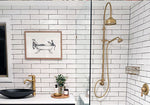 The best quality tapware manufacturers, suppliers, and designers feature virgin brass products that provide strength, durability, elegance, and long-term use for bathroom, kitchen, and laundry areas. These functional and fashionable tapware designs are tested with quality control checks before they are released for commercial or home sales on the consumer market. 
The designer tapware, being the top-notch producer of these finely made tapware models, wants to ensure that every feature and item is of optimal quality with the highest level of performance. Designer tapware complies with the Australian standards for quality and is in the continuous process of innovations in the market.
Quality Tapware Designs for Bathroom,
Kitchen

, and Laundry Areas

Highest quality tapware products that are manufactured and designed for Australian market and enhance the décor of bathroom, kitchen, and laundry includes the practical, elegant, and long-lasting models and styles:
Nicolazzi Taps and Calflex Showers for Your Bathroom
Nicolazzi taps and Calflex's original designs are some of the best featured seamless alignments of the tapware body and spout. These top-of-the-line products come in various styles, designs, and chrome finishing. The taps and shower are made sophisticatedly to perform the required operations in the recommended working pressures. 
Therefore, our experts are trained to check the plumbing and give recommendations before fitting the taps and showers for the ultimate results. Together, they make a streamlined, lasting, and elegant tapware set that is perfect to soothe the eyes and wishes.
Fireclay Sinks and Nicolazzi Taps for Your
Kitchen
On one hand, Designer Tapware's best quality Fireclay sinks and Nicolazzi taps add beauty to your kitchen place, on the other, they are easy to use. There is nothing more important when you are preparing food for the guests than the kitchen sink because this place remains actively in use during a party. 
This is where Fireclay and Nicolazzi range not only makes your job more pleasurable but also impresses your guests with sleek modern design, stylish outlook with a seamless finish. Designer Tapware Co sources the optimum quality tapware and Fireclay sink items from Europe and curates the choices for Australian homes. Our Fireclay Sinks and innovative tapware will undoubtedly change the way you think about water.
Cristina
 Taps and Lira Steel Grid for the Laundry Area
The contemporary Cristina taps and Lira steel grids are made of sturdy material that features a tall gooseneck spout to use conveniently. This tapware along with Nicolazzi is available to meet your laundry area requirements.
 Laundry becomes a hectic task if the tapware is not supported due to various difficulties. To manage all this stress, Designer Tapware Co steps forward to introduce you with easy-to-use and stylish tapware products.
When you select Designer Tapware, which services the city of Melbourne and throughout Australia, you will benefit from classy tapware that is well deserved throughout your home's bathroom, kitchen, and laundry areas. The top-class company maintains standards to produce high-caliber products to enhance the fashion and flair of your home.