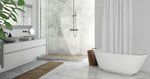 Are you sink or shower taps no in their optimal condition? While your answer would be based on operation or appearance wise, it is about time that you don't compromise with them and opt for designer tapware right away. 
You should consider this chance as a great opportunity to give a modern and luxurious touch to your home through the taps and eventually increase the physical appearance and value of your home.  
But for that to happen, you need a reliable source like us that offers high quality products and that assurance that you will be in safe hands for years. So, while we be would be enlightening you about how designer tapware is an idea investment to make, we would also be telling you about the benefits if you go for designer sink or shower taps. 
Durability
When you decide to go with tapware that is made by the finest designers and manufacturers around the world, then they come with the guarantee of durability. This is because such taps are then made up of materials like solid DR brass which makes them ideal for daily usage without any chance of prematurely deteriorating, corroding or other issues.
Attractiveness
A lot of the taps do come in chrome finishes but these days you can also find taps that are made with the combination of two or more finishes. We do recommend our customers to focus more on matte finishes and gloss finishes in the year 2021 but again it all comes down to your personal preference. Nevertheless, all of the finishes of designer tapware are highly attractive and durable. 
Smooth Operation
With high quality ceramic disc cartridges in all of the models offered at Designer Tapware,  we also ensure smooth delivery of water at all times, without any issues and and an extended life as well. You can also choose more specifications based on your needs but the better you want, the higher the cost would go. 
Must Read: 3 Reasons Why Everyone Should Go For Designer Bathroom Taps
Warranties To Protect You
While do offer products from international designers as well, yet every single time comes with a warranty to keep our customer and clients protected at all times. Also, the warranty times of our products are lengthier times than all of our competitors as we have full confidence in our products to stand the test of time. So, by investing your money in Designer Tapware, you are safe for years not only months. 
Massive Variety
Last but not the least, there is no brand out there that can beat the designer taps. This is because they are made by the finest professionals from around the globe who invest years into developing a unique design to complement your basin, bath and laundry taps needs. Apart from that, as designers want to stand out among he crowd of branded tapware's, you also get many model options and every model has something unique to offer. 
Now that you are well aware of the advantages, would you now go for the change? Let us know in the comments section below.