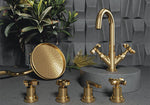 Designer Tapware's finest tapware designs are supported and promoted by resellers of state-of-the-art tapware across Australia. Customers of these resellers can rely on the exceptional durability and distinctive style of this leading brand of tapware, whether they require it for commercial or residential installations.
Today, some tapware manufacturers focus on tapware designs for commercial or home use, whereas, Designer Tapware offers versatile designs, and ultimate quality for tapware installations for home, industrial, or office facilities. Whatever your current tapware needs and preferences, Designer's designs are the best option for the next levels of functionality and fashion. 
All the leading retailers of tapware designs today carry and promote Designer Tapware products and accessories for the below-mentioned reasons:
Designer Tapware

Produces Top-Caliber Quality

Designer's brand tapware is made of only the finest materials, using updated technology and advanced machinery. Finest quality brass fixtures, chrome, and long-lasting hardware are used to create these top-quality accessories and products. 

Home kitchens and bathrooms as well as heavily used commercial bathrooms and kitchens are always in excellent working order and well equipped when their interior designs include Designer taps and sink installations.
Standard Reliable Durability
With reliable, attractive tapware installed as a main part of your bathroom update or kitchen makeover, you and your family can rely on the best performance of these superior fixtures. They can withstand busy daily use while maintaining the top-level operation and fine look of newly installed tapware. 
Your entire household will run more efficiently and smoothly with Designer's tapware installed in your bathroom, kitchen, and utility areas.
The Designer Name Symbolizes Tasteful Fashion
In both commercial and residential settings, this company stands as a tasteful, elegant symbol of high tapware fashion and advanced design. In addition, this fine tapware is fashioned and structured to blend and enhance different design elements and styles, from vintage to modern designs. If you select Designer Tapware for your commercial or home tapware needs, you will benefit from the finest quality and long-term use.   
Compatibility and Functionality
As easy as it is to get caught in the look and style of the taps, it is very important to think about tap compatibility and functionality. If you are building your kitchen or bathroom from scratch, you will have the luxury to choose whatever tap you wish. 
However, if you are updating or renovating your old tap, you will need to choose the finest fits for your kitchen or bathroom measurements and plumbing. The right tap should also reflect your needs and lifestyle. 
For instance, if you do a lot of washing up and cooking, you might need a kitchen tap with plenty of flexibility and movement so you can get water exactly where you need it. Simply, no matter how beautiful a tap might be, if it doesn't suit your requirements and needs, it is not the best tap for you. 
To overcome all these challenges, we recommend you to visit designer tapware co 
 for the finest quality tapware for your kitchen and bathrooms.